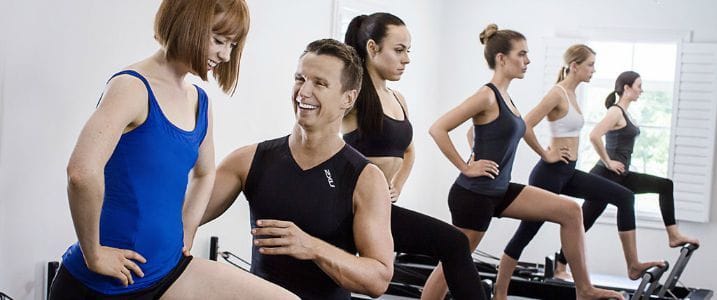 The Platinum Instructor Certification is Studio Pilates'® most advanced and comprehensive training course which enables you to instruct in a Studio Pilates® studio with our video technology. The Platinum Instructor Certification comprises three online modules (Platinum Module, Shadowing Module and Induction Module) in addition to a 7 1/2 day face to face course and one on one shadowing with a Studio Pilates® Mentor. This means that you not only receive access to Studio Pilates'® most exclusive and comprehensive training resources, but also benefit from the face to face course where you are able to consolidate your knowledge and practise your instructing in a practical environment. The aim of the Platinum Instructing Program is to empower Studio Pilates® instructors with the knowledge and skills to become the world's most elite and qualified Pilates instructors.

Why This Course?
Studio Pilates'® most comprehensive course designed to transform you into a world class instructor
Learn how to instruct a Studio Pilates® Platinum Class and gain the pre-requisite certification required to instruct in a Studio Pilates® studio!
Practice teaching and cueing in a practical environment
Learn over 130 exercises on the Reformer (including a small number of basic Matwork exercises and Circle and Band exercises)
Receive a Reformer Certification
Earn 15 continuing education credits (CECs) through Fitness Australia
Instruct Reformer Pilates in studios other than Studio Pilates®
Ongoing career opportunities and job notifications - as trainees or graduates of the Studio Pilates International® Platinum Instructor Training Program, you will be the first to receive notification of instructing positions that become available in any company owned or franchised studio.
Course Format:
Online course study
7 1/2 day practical face to face in the studio
One on one shadowing with a Studio Pilates Mentor
CECs:
15 CECs through Fitness Australia
Course Prerequisites:
Have completed the Studio Pilates Anatomy Course or that of equivalent studies in Human Anatomy and Physiology.
High speed internet (ADSL 2+ or Cable) as well as an up to date web browser to stream online video content.
Venue:
Studio Pilates Cairns
Starting:
9:00 AM
Wednesday 3rd May 2017
Ending:
6:30 PM
Thursday 11th May 2017
Phone Enquiries:
0488 014 618
Email Enquiries:
education@studiopilates.com
Course Policies:

By enrolling in Studio Pilates instructor certification courses, you agree to the following terms and conditions outlined in the document below.

Please click on the button below to read through these important terms and conditions which cover Studio Pilates' policies as they relate to course reschedule fees, cancellations and refunds, course transfers, video submissions, course resits and certificates.