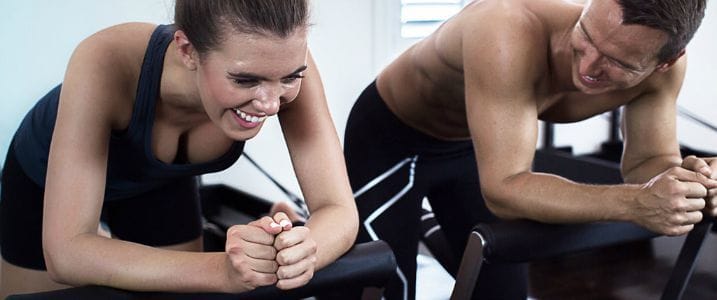 This course is a must to enhance your existing Matwork Pilates skills and become a Reformer instructor! In this practical 4 day course, you will learn an extensive repertoire of beginner to intermediate exercises, as well as learn about shoulder, hip, knee, ankle and elbow injuries. This course opens up opportunities for you to successfully prescribe Reformer exercises with rehab clients, as well as those wanting to tone up and gain an effective and challenging workout.
Learning Objectives:
Learn over 120 basic to intermediate Reformer exercises
Become familiar with the Reformer equipment
Learn about common peripheral injuries and how to create programs for injury rehabilitation
Learn about programming for injury rehabilitation (spinal and peripheral joints)
Learn how to cater towards different client levels and also push your clients hard, such as challenging athletes
Learn about pregnancy and small group classes
Course Format:
Online pre-course study +
4 day practical course
CECs:
15 CECs through Fitness Australia
7.5 PDPs through ESSA Australia
Health Practitioners - earn CPD hours through AHPRA (AUS) to maintain annual registration
Course Prerequisites:
To enrol in this course, you must have completed the Studio Pilates Matwork course or the Studio Pilates Bridging course if you have received your Matwork certification through a different Pilates training organisation.
High speed internet (ADSL 2+ or Cable) as well as an up to date web browser to stream online video content.

Venue:
To Be Confirmed
Starting:
9:00 AM
Thursday 22nd March 2018
Ending:
5:30 PM
Sunday 25th March 2018
Phone Enquiries:
0488 014 618
Email Enquiries:
education@studiopilates.com
Course Policies:

By enrolling in Studio Pilates instructor certification courses, you agree to the following terms and conditions outlined in the document below.

Please click on the button below to read through these important terms and conditions which cover Studio Pilates' policies as they relate to course reschedule fees, cancellations and refunds, course transfers, video submissions, course resits and certificates.

"This course is amazing: a very intelligent concept that honours Joseph Pilates' foresight, and a truly revolutionary way of exercising. Just fabulous!" Gail


"If you are considering doing the Reformer Course, do it!" Lisa


"The comprehensive course material, structure and support that is offered from Studio Pilates is exceptional. You complete your course feeling confident in your ability to work with clients of various abilities and levels of fitness." Natalie